July 28th – World Hepatitis Day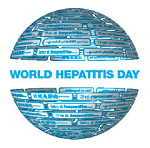 World Hepatitis Day is an annual event that brings attention to chronic viral hepatitis worldwide and stands in solidarity with persons who have hepatitis B or C, two forms of life-threatening liver disease. Approximately 500 million people – one in 12 worldwide – are infected with viral hepatitis B or C. In Canada, an estimated 550,000 people have viral hepatitis, with many unaware of their status.
Many persons with viral hepatitis experience no obvious symptoms until serious liver damage has occurred. In fact, in Canada, about 1 in 5 people with Hepatitis C do not know they have the virus. If left untreated, viral hepatitis can lead to severe damage to the liver, liver cancer, and the need for a liver transplant. Know your status? Get tested.