Tourist Information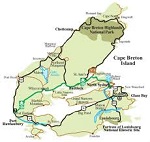 Cape Breton Island is part of the province of Nova Scotia, Canada. Although physically separated from the Nova Scotia peninsula by the Strait of Canso, it is artificially connected to mainland Nova Scotia by the Canso Causeway.
Cape Breton Island is composed mainly of rocky shores, rolling farmland, glacial valleys, barren headlands, mountains, woods and plateaus.
The northern portion of Cape Breton Island is dominated by the Cape Breton Highlands, which are an extension of the Appalachian mountain chain. The Highlands comprise the northern portions of Inverness and Victoria counties. In 1936 the federal government established the Cape Breton Highlands National Park covering 949 km (366 sq mi) across the northern third of the Highlands.
Cape Breton Island's hydrological features include the Bras d'Or Lake system, a salt-water fjord at the heart of the island, and freshwater features including Lake Ainslie, the Margaree River system, and the Mira River. Innumerable smaller rivers and streams drain into the Bras d'Or Lake estuary and onto the Gulf of St. Lawrence and Atlantic coasts.
The island's residents can be grouped into five main cultures; Scottish, Mi'kmaq, Acadian, Irish, and English, with respective languages Gaelic, Mi'kmaq, French, and English. English is now the primary spoken language, though Mi'kmaq, Gaelic and French are still heard.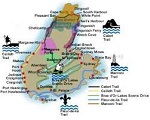 Cape Breton Island has been divided into 6 'official' tourist regions by Nova Scotia tourism.
Ceilidh Trail – along Route 19; the sunset coast of Cape Breton Island, you will find the Scottish culture alive and well.
Fleur-de-Lis Trail – leads you down a rugged coastlines, through pictureous fishing villages and finally to the Fortress of Louisbourg.
Bras d'Or Lakes Scenic Drive – extends around the perimeter of the Bras d'Or Lake; home to the Highland Village Museum.
Cabot Trail – often referred to as one of the most beautiful scenic drives in the world. The Cabot Trail covers over 300 km (185 mi.) winding around the islands northern shore.
Marconi Trail – less traveled and steep in wireless history; home of the Marconi National Historic Site.
Metro Cape Breton – includes these regions; Glace Bay, Sydney, Reserve Mines, New Waterford, Dominion, Sydney River, North Sydney, Sydney Mines, Florence.

The island is divided into four of Nova Scotia's eighteen counties: Cape Breton, Inverness, Richmond, and Victoria.
The island contains five reserves of the Mi'kmaq Nation – Eskasoni, Membertou, Wagmatcook, Waycobah, and Potlotek/Chapel Island.
Climate
Spring from 1 °C (34 °F) to 17 °C (63 °F)
Summer from 14 °C (57 °F) to 25 °C (77 °F)
Fall about 5 °C (41 °F) to 20 °C (68 °F)
Winter about −11 °C (12.2 °F) to 5 °C (41 °F)
Ratings
2011 -Cape Breton Island has been voted one of the world's best islands to visit in Travel and Leisure magazine's 2011 World's Best Awards. It was ranked the number one island destination in Canada and continental United States, and number three on the list of Top Ten Islands Overall.
Ranked as an Island Paradise in Fodor's Travel News 2008
Cape Breton Island ranked 1st in 2006 as the Top Island in Continental US and Canada
March 2004 – Cape Breton rated #2 on National Geographic's Travelor Magazine destinations poll
Rated the most beautiful island and amongst the most friendly people in the world by Condé Nast Traveler magazine!
One of the "50 Rides of a Lifetime,"Bicycling Magazine
#9 on Lonely Planet's "World's Best Cycling Routes"
Explore "one of the world's best road trips" as rated by Lonely Planet
Cape Breton Highlands National Park named among Reader's Digest Top 10 Amazing Canadian Hikes
Planning on Visiting?
Cape Breton Island is an island with amazing tourist attractions and wonderful things to do. It's an island of living history and Celtic spirit.
Here are some things to take in if you are in the neighbourhood:
Fortress Louisbourg National Historic Site, Louisbourg
Alexander Graham Bell Museum, Baddeck
Glace Bay Miner's Museum, Glace Bay
Highland Village, Iona
Gaelic College of Celtic Arts & Crafts, St. Ann's
Two Rivers Wildlife Park, Marion Bridge
Cossitt House Museum, Sydney
Whale Interpretive Centre, Pleasant Bay
Big Fiddle, Sydney Marine Terminal
Marconi National Historic Site, Glace Bay
Cabot Trail
Famous Nova Scotians
Langford, Sam – Weymouth Falls – He boxed somewhere between 250 and 642 bouts, but he never won a World championship. In his 21-year career he fought in five different weight classes (light, welter, middle, light-heavy and heavy). Ring magazine has named him the seventh best heavyweight in history. The Associated Press named him the ninth best heavy weight of the century in December of 1999. He once fought in 22 outs in one week, including three in the same night all at different clubs in the Boston area. In the final year of his career (1923-24) he fought while he was legally blind. He did this by listening to his opponent around the ring before knocking him out.
Minglewood, Matt – Cape Breton – Famous rock and roll artist.
Porter, Gladys – Kentville – She was the first female MLA elected in the province in 1961 and 1963. Also the first female mayor in eastern Canada in the 1940's.
Roue, William J. – South Shore – He was the man who designed the Bluenose.
Sutterland, Donald – Bridgewater – Born in St. John, NB he spent his teen years in Bridgewater. Star of many TV shows and movies.
Winters, Robert – Lunenburg – Financial , Federal Liberal Cabinet Member, lost leadership bid to Pieree Elliot Trudeau