Feb. 15th. – National Flag Day
Our Flag. Our Pride. Celebrate it!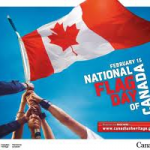 February 15 was declared National Flag of Canada Day in 1996. It marks the day in 1965 when our red and white maple leaf flag was first raised over Parliament Hill in Ottawa, and, in hundreds of communities across Canada. Red and white were designated as Canada's official colours in 1921 by His Majesty King George V. This is a perfect opportunity to celebrate our flag and what it stands for: a Dominion that is the envy of the world.