Radio Bingo
Ahoy bingo fans! Tune in to The Coast 89.7 every Sunday afternoon at 3pm.
Play bingo in the comfort of your own home. We play 10 games (6-$100 games, 3 -$200 games plus a jackpot game) as well as the lucky number jar.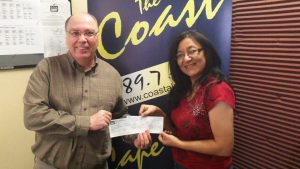 1st. Winner of 2017 -Jan. 15th
A HUGE congratulations to Charlene Christmas from Membertou, a FIRST TIME PLAYER, and the winner of Coastal Community Radio BIngo's $17,874 lucky number jar!! Everyone at the Coast was all smiles as we handed her the cheque today!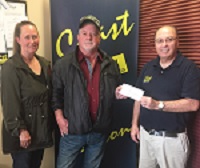 Latest Winner
Karen Toms & Gerard McNeil of Glace Bay are the Lucky Number winners on June 12th's Coastal Bingo. They're splitting $20,000.00, plus $100.00 for Game 10.
Latest Winner    
Karen MacDonald wins the $14,500 Jackpot Game – Sun, June 6/16
Books Available at the Following Locations:

Glace Bay
Mel's Gifts & Trophies
Needs Convenience, Commercial St.
Glace Bay Pharmasave
Cletus's Corner
Union Street Deli
Retro Now
New Waterford
Frasers Variety
Midtown Pharmasave
Needs Emerald Street
Needs Plummer Avenue
New Waterford Convenience/ Robin's, Emerald St.
 Reserve Mines
BP Main Stop Variety & Bake Shop
Dominion
Al's Dairy
Dominion Pharmasave
Catalone
Catalone Convenience Store

Sydney
Mac's Convenience
The Crackle Barrel
Needs – Coxheath Rd.
Needs – Howie Centre
Needs – George St, (By Wentworth Park)
Needs/Tony's Bakery, George St (By Hospital)
Meadows Pharmasave, Sydney Forks
Welton St. Mini Mart
Petro Can/Needs Convenience, Sydney River
North Sydney
Brewers Convenience
Pierce Street Dairy
William Street Dairy
Sydney Mines
Bras D'or
Bras D'or Convenience Store
Port Caledonia
Kace Corner Gas & Convenience
Albert Bridge