Radio Bingo
Ahoy bingo fans! Tune in to The Coast 89.7 every Sunday afternoon at 3pm.
Play bingo in the comfort of your own home. We play 10 games (6-$100 games, 3 -$200 games plus a jackpot game) as well as the lucky number jar.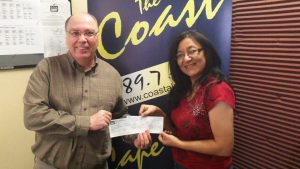 1st. Winner of 2017 -Jan. 15th
A HUGE congratulations to Charlene Christmas from Membertou, a FIRST TIME PLAYER, and the winner of Coastal Community Radio BIngo's $17,874 lucky number jar!! Everyone at the Coast was all smiles as we handed her the cheque today!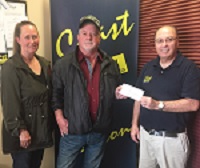 Latest Winner
Karen Toms & Gerard McNeil of Glace Bay are the Lucky Number winners on June 12th's Coastal Bingo. They're splitting $20,000.00, plus $100.00 for Game 10.
Latest Winner    
Karen MacDonald wins the $14,500 Jackpot Game – Sun, June 6/16
Books Available at the Following Locations:

Glace Bay
Mel's Gifts & Trophies
Needs Convenience, Commercial St.
Glace Bay Pharmasave
Cletus's Corner
Union Street Deli
Retro Now
New Waterford
Frasers Variety
Midtown Pharmasave
Needs Emerald Street
Needs Plummer Avenue
Dolly's Convenience, Emerald St.
Bridgeport
Reserve Mines
BP Main Stop Variety & Bake Shop
Dominion
Al's Dairy
Dominion Pharmasave
Catalone
Catalone Convenience Store

Sydney
Mac's Convenience
The Crackle Barrel
Needs – Coxheath Rd.
Needs – Howie Centre
Needs – George St, (By Wentworth Park)
Needs/Tony's Bakery, George St (By Hospital)
Meadows Pharmasave, Sydney Forks
Welton St. Mini Mart
Petro Can/Needs Convenience, Sydney River
North Sydney
Brewers Convenience
Pierce Street Dairy
William Street Dairy
Sydney Mines
Bras D'or
Bras D'or Convenience Store
Port Caledonia
Kace Corner Gas & Convenience
Albert Bridge