Max MacDonald, Artist of the Week
Runs Nov. 3rd-7th.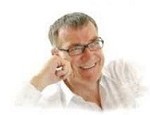 Max was front man for the rock band Buddy and the Boys back in the '70s and early '80s, a mainstay in the touring music and comedy repertories "The Rise and Follies of Cape Breton" and "The Cape Breton Summertime Revue" from 1977 until 1995, and, as a principal in the entertainment promotion firm Rave Entertainment, founder and organizer of the fall Celtic Colours music festival from 1997 to 2008, which grew to an event featuring more than 400 performers.
I've been fortunate to be around and be influenced by music all my life. My father worked at CJCB Radio and would bring home the records they wouldn't play on the radio, for whatever reason. As a result, I was exposed to some wonderful and wacky music of all genres.
This early exposure, to all sorts and styles of music, provided a great backdrop as I began to work with artists from a variety of experiences and styles. I was able to respect and appreciate the different influences that people brought to the table and never felt that music had any boundaries.
A well-known figure in the island's entertainment scene, MacDonald also worked for the Sydney-based Marcato Digital, developing web-based software for the music industry, and he put out a solo CD, Songs of Home, which has earned him his first two ECMA music award nominations.
I have performed on radio, television, film and toured for many years as an actor and musician. I was a founding member of the music and comedy shows, The Rise and Follies of Cape Breton Island and The Cape Breton Summertime Revue as well as a performer in a number of Neptune Theatre productions. I was a founding member, recorded and toured with the East Coast band, Buddy and the Boys as well as recording comedy and vocals on 20 other albums.
I formed Rave Entertainment in 1995 with Joella Foulds. Since that time we have managed a wide range of events and conferences. We also founded and manage the Celtic Colours International Festival which includes over 400 artists from all over the world in an event with a $1 million budget and some 1,500 volunteers. Celtic Colours was named the Top Event in Canada in 2007 & 2011 by the Tourism Industry Association of Canada.
I have served six years on the East Coast Music Association (ECMA) board including one year as Chair. I have also served on the Boards of the A. F. of M. Local 355, Summertime Productions Society, ArtsCapeBreton & the Cape Breton Music Industry Cooperative. (CBMIC)
The sum total of my 30 + years experience in virtually every aspect of live entertainment production lead to me being awarded the "Industry Builder Award" from ECMA in 2000. I am one of a handful of Eastern Canadians to be so honoured. I released, Songs of Home, the first CD under my own name in 2009. It is a collection of material written by Cape Breton songwriters who also contribute support vocals on their song.
In May of 2011 I was inducted into the Cape Breton Tourism Hall of Fame. In 2013 I received the East Coast Music Association 25th Anniversary Industry Award.
Recently I have felt a strong pull to return to my roots in Port Hillford, Guysborough County where I spent many happy summers with my Grandmother. Barbara and I have recently become the proud owners of Beanie's Bistro in Sherbrooke, NS.
Max is now Coordinator Marketing/Sales at Highland Village Museum