Sentimental Journey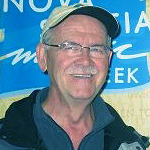 Sentimental Journey with host Loran Fevens is on the air every Sunday. Loran plays some of the most memorable classics from the 30's, 40's and a bit beyond! It's the ultimate in nostalgia! Loran takes you on a musical journey through the songs, stories and interviews of musical legends. Fevens was well known locally for a decade when he was morning host on Annapolis Valley Radio (January 1964 to December 1974).
Sentimental Journey is a show Fevens started almost six years ago and is now carried on five radio stations in various parts of Canada. He started the program as a result of nineteen years of work with Veterans' Affairs in Charlottetown where he created and managed a project to record broadcast-quality video interviews with Canada's veterans.
Over a four-year period, Fevens gathered 1,800 hours of interviews with about 850 veterans from coast-to-coast. During those four years he heard veterans remark, time and time again, "We never hear our music anymore". The program was intended to fill that need.